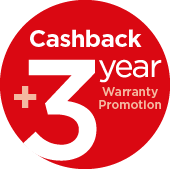 Enjoy great savings and greater peace of mind with Canon's 3 Year Warranty Promotion.
When you purchase selected Canon printers and scanners between 01.03.2019 and 31.12.2019.
IMPORTANT:
Please note that the validation of your claim can be delayed if the information required is not supplied with your claim.
For ALL Purchases –A scan or picture of your invoice, a valid product serial number.